Sep 15, 2020 • 40M
🎙DeFi By Design EP #7: Interoperability and Cross-Chain Future with REN Protocol
We help you navigate DeFi with actionable info & digestible research from industry experts to give you an edge. Scaling to mass adoption one block at a time🙏 Weekly episodes brought to you by Rob & Andy! Check our website for more: www.therollup.co
Take one step closer sovereignty every single week, join the DeFi Slate community below: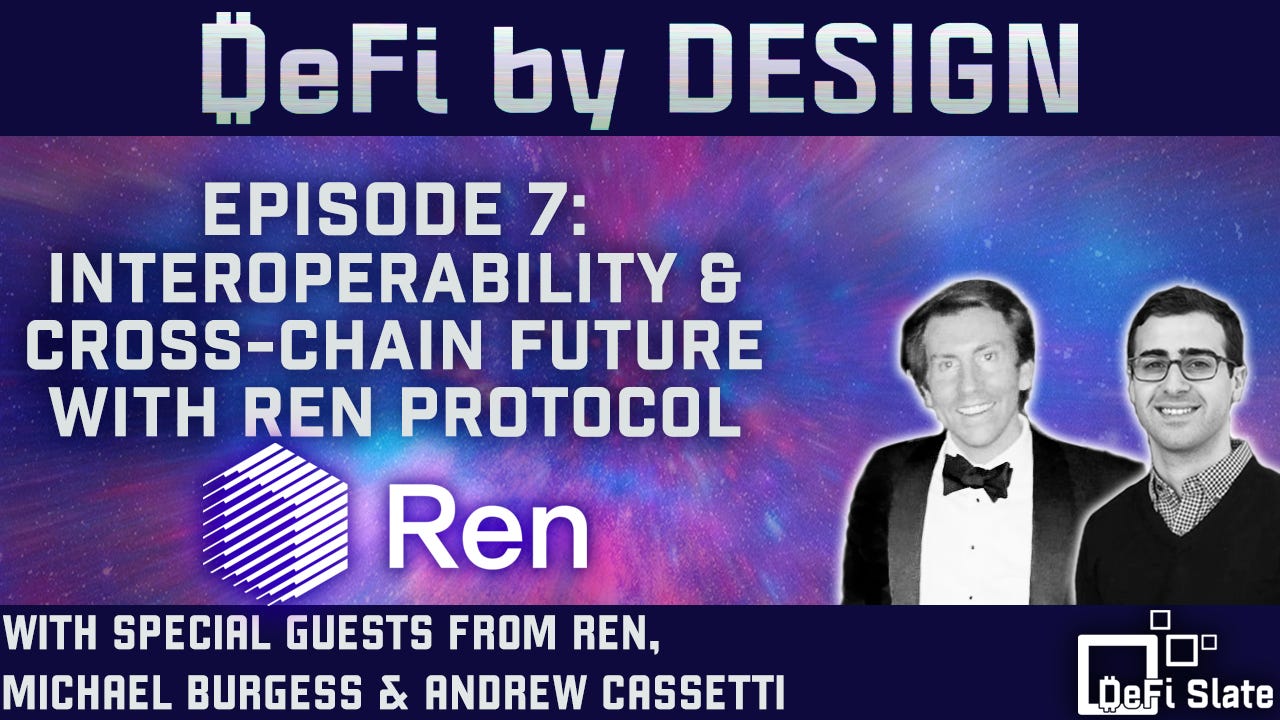 Listen on YouTube | Spotify | iTunes | R.S.S. Feed
DeFi Slate Family:
Its obvious. Bitcoin on Ethereum is absolutely blowing up. There's no doubt about it.
We are seeing massive yield farms pop up all over the place leaving the the Bitcoiners hanging out on the BTC chain wondering what they're doing leaving their BTC unproductive while everyone else is farming food coins.
More important than the flashy, short-lived xx,xxx% APYs is the ability to use assets cross-chain.
This opens up new realms of endless possibilities: lending & borrowing on different chains, scaling solutions cross-chains, payments globally across different networks, credit and DAOs, yield farming on multiple chains at once - the list goes on.
In this episode we'll deep dive into RenVM, bringing BTC onto the Ethereum blockchain & how REN Project is playing a massive role in the current DeFi industry.
Welcome to the show.
-Andy
---
🎙DeFi By Design EP #7: Interoperability and Cross-Chain Future with REN Protocol
We've been following Ren project for quite awhile. In fact we just did a piece on turning your BTC into a productive asset here, using renBTC as your BTC value on Ethereum.
With the recent launch of RenVM in May 2020, the value of the REN token has seen insane gains & the project thousands of new users.
First ever 1000 BTC transaction? We go into that.
How does the Ren token accrue value? Got it.
What does TVL in Ren Protocol represent? Covered.
Whats left on the roadmap for 2020? You bet.
Listen to the episode now!
📲 Join the Ren Telegram here!

🙏 Follow Ren Project on Twitter!
---
⚠️DISCLAIMER: Investing into cryptocurrency and DeFi platforms comes with inherent risk including technical risk, human error, platform failure and more. We are strictly an educational content platform, nothing we offer is financial advice. Please refer to our blog for more on mitigating your downside when using these protocols!
---
📈 Shoutout To Our Partner: MCDEX— trade the first ever decentralized ETH & LINK perp swap contracts on MCDEX.
---
🙏 New To Yield Farming? Use Akropolis to lend, borrow, and dollar-cost-average in the simplest way possible with their new Delphi mainnet launch!
---
👨🏽‍🌾Earn Interest & Leverage Your Assets with Aave, a non-custodial money market protocol leading the #DeFi charge. 
ALPHA LEAK: Deposit LINK tokens into Aave to get aLINK, then head over to Yearn to put your aLINK into the yaLINK vault for extra yield (40%+ APY currently). It all starts here with Aave!
---
Subscribe to the DeFi Slate Newsletter & join thousands of other crypto enthusiasts:
🌐Check Us Out On Twitter!
🚀Join the community on Discord to get our freeV.1. yield farming guide!
🎤Subscribe to our YouTube channel!
Check out some previous interviews:
Last week in review:
Recent tweets: