Sep 17, 2020 • 52M
🎙DeFi By Design EP #8: L2 Scaling & zkRollups
We help you navigate DeFi with actionable info & digestible research from industry experts to give you an edge. Scaling to mass adoption one block at a time🙏 Weekly episodes brought to you by Rob & Andy! Check our website for more: www.therollup.co
Take one step closer sovereignty every single week, join the DeFi Slate community below: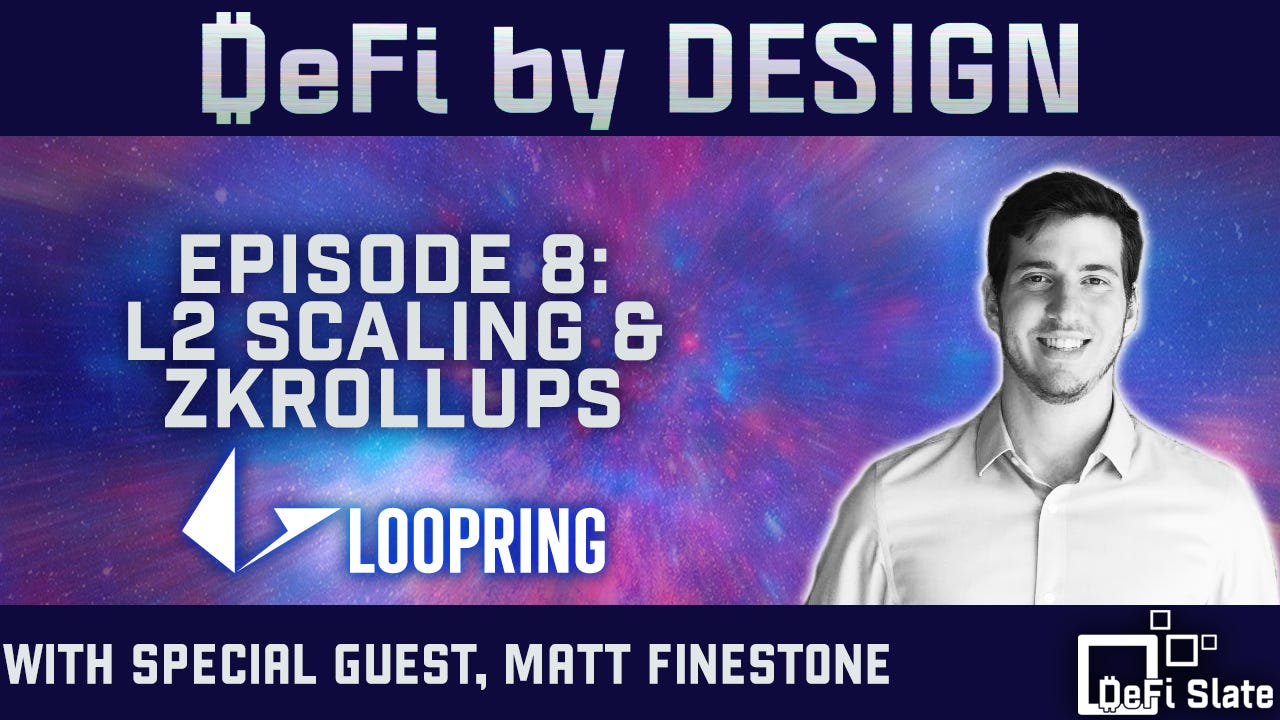 Listen on YouTube | iTunes | Spotify | R.S.S. Feed
DeFi Slate Fam:
Its happening. It really is.
Ethereum is gearing up for a mainstream mania push & were at the forefront of the technology necessary to make it possible.
Welcome to the new world of L2 scaling, a much needed relief.
See here's the thing, when new people learn about DeFi and see the 500+ gwei gas prices ($40 for a simple Uniswap tx), there's no way in hell they are going to participate.
Introducing: Loopring.
Your go-to gasless DEX for trading on Ethereum utilizing the power of L2 solutions, specifically zkRollups.
This buzzword is definitely thrown around a fair amount in DeFi, but Matt does an incredible job explaining it in layman's terms.
Perfect for me & you!
Enjoy this one & listen closely, its the future of Ethereum ;)
-Andy
---
🎙DeFi By Design EP #8: L2 Scaling & zkRollups
Loopring is in the trenches doing the good deeds the Ethereum community needs. They are like an angel amidst the sea of Ethereum warriors that we have in the community (which isn't a bad thing, they all contribute in their own ways).
But man oh man if Loopring can pull off anything they aspire to, they will be one of the most valuable assets the ecosystem has.
As I write this, the gas prices are 500+ gwei thanks to the current Uniswap token madness.
But trading on Loopring's layer 2 DEX? Still gasless.
Trying to farm some yield rn? That'll cost you $80 to enter a pool.
And another $80 to exit.
But trading on Loopring's layer 2 DEX? Still gasless.
That's the power of L2 and Loopring. You don't want to miss this one. We're building together. Enjoy!
---
📲 Join the Loopring Discord here!

🙏 Follow Loopring on Twitter!

📈 Trade on Loopring now!
---
⚠️DISCLAIMER: Investing into cryptocurrency and DeFi platforms comes with inherent risk including technical risk, human error, platform failure and more. We are strictly an educational content platform, nothing we offer is financial advice. Please refer to our blog for more on mitigating your downside when using these protocols!
---
📈 Shoutout To Our Partner: MCDEX— trade the first ever decentralized ETH & LINK perp swap contracts on MCDEX.
---
🙏 New To Yield Farming? Use Akropolis to lend, borrow, and dollar-cost-average in the simplest way possible with their new Delphi mainnet launch!
---
👨🏽‍🌾Earn Interest & Leverage Your Assets with Aave, a non-custodial money market protocol leading the #DeFi charge. 
ALPHA LEAK: Deposit LINK tokens into Aave to get aLINK, then head over to Yearn to put your aLINK into the yaLINK vault for extra yield (40%+ APY currently). It all starts here with Aave!
---
Subscribe to the DeFi Slate Newsletter & join thousands of other crypto enthusiasts:
🌐Check Us Out On Twitter!
🚀Join the community on Discord to get our freeV.1. yield farming guide!
🎤Subscribe to our YouTube channel!
Check out some previous interviews:
Last week in review:
Recent tweets: