Discover more from The Rollup
We help you navigate DeFi onchain w/ actionable info & digestible research to give you an edge. Focused on L2s. Scaling to mass adoption one block at a time🙏
Over 2,000 subscribers
Master It Monday: Farming $FARM on Harvest Finance
$FARM token, protocol rewards, high stablecoin APYs
Take one step closer to sovereignty every single week, join the DeFi Slate community below:
DeFi Slate Fam:
Yield farming is kind of insane right now. Well I take that back, it is absolutely insane.
New farms popping up left and right boasting xx,xxx% APYs getting drained by whales like no tomorrow. It almost feels like one magical game of chess.
There's a few rules to getting profitable farms: Be first, be fast, be silent. Shout out to Josh Rager for that one - he was in the GemSwap discord last night for the OG hours.
That was a total rollercoaster.
While I try to follow the farming rules to maximize profit (as a capitalist), I do feel like there is plenty for everyone.
And that brings us to Harvest Finance.
This is what I consider to be the best stablecoin farming opportunity right now. If you all ape in, the APYs might get rekt, but hey at least the clout was worth it…right…?
Lets dive in gang.
- Andy
---
📈 Shoutout To Our Partner: MCDEX— trade the first ever decentralized ETH & LINK perp swap contracts on MCDEX.
---
🙏 New To Yield Farming? Use Akropolis to lend, borrow, and dollar-cost-average in the simplest way possible with their new Delphi mainnet launch!
---
👨🏽‍🌾Earn Interest & Leverage Your Assets with Aave, a non-custodial money market protocol leading the #DeFi charge. 
ALPHA LEAK: Deposit LINK tokens into Aave to get aLINK, then head over to Yearn to put your aLINK into the yaLINK vault for extra yield (40%+ APY currently). It all starts here with Aave!
---
Master It Monday: Farming $FARM on Harvest Finance
This goes without saying: This is uber risky and could end poorly. Anytime you're providing your funds as liquidity on any protocol you're risking the infamous rug pull.
This publication tends to think rug pulls are a "Thriller to Crypto Geeks"…But yeah, its definitely risky so just be aware of that.
Now what even is Harvest Finance? Well for starters, its very similar to Yearn Finance in that it is a yield farming aggregator looking to get the highest yields on the market.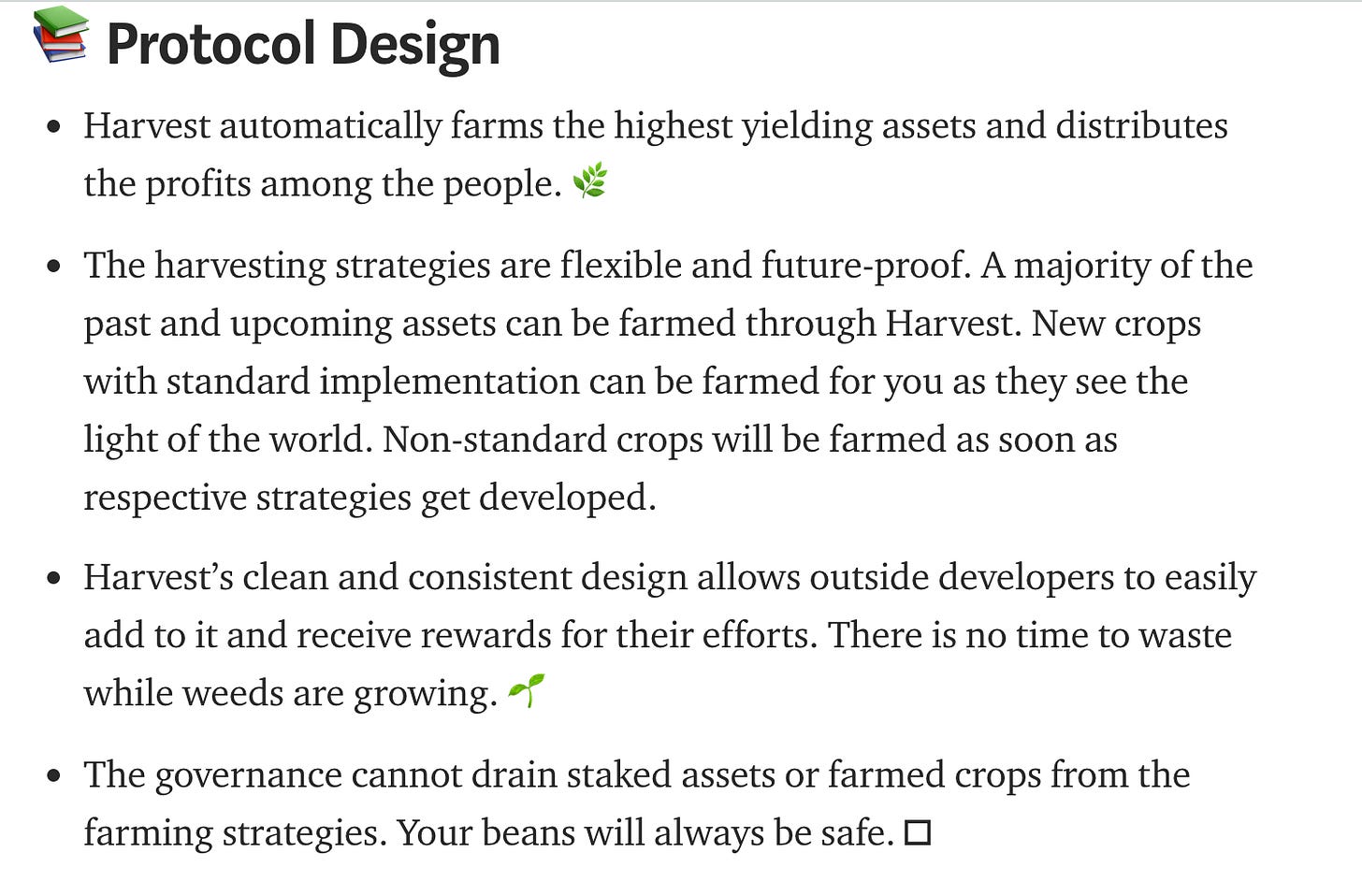 Basically its a 'leave it & let it do its thing' farm, as it will automatically get you the highest yields. Like yTokens in Yearn, Harvest has fTokens.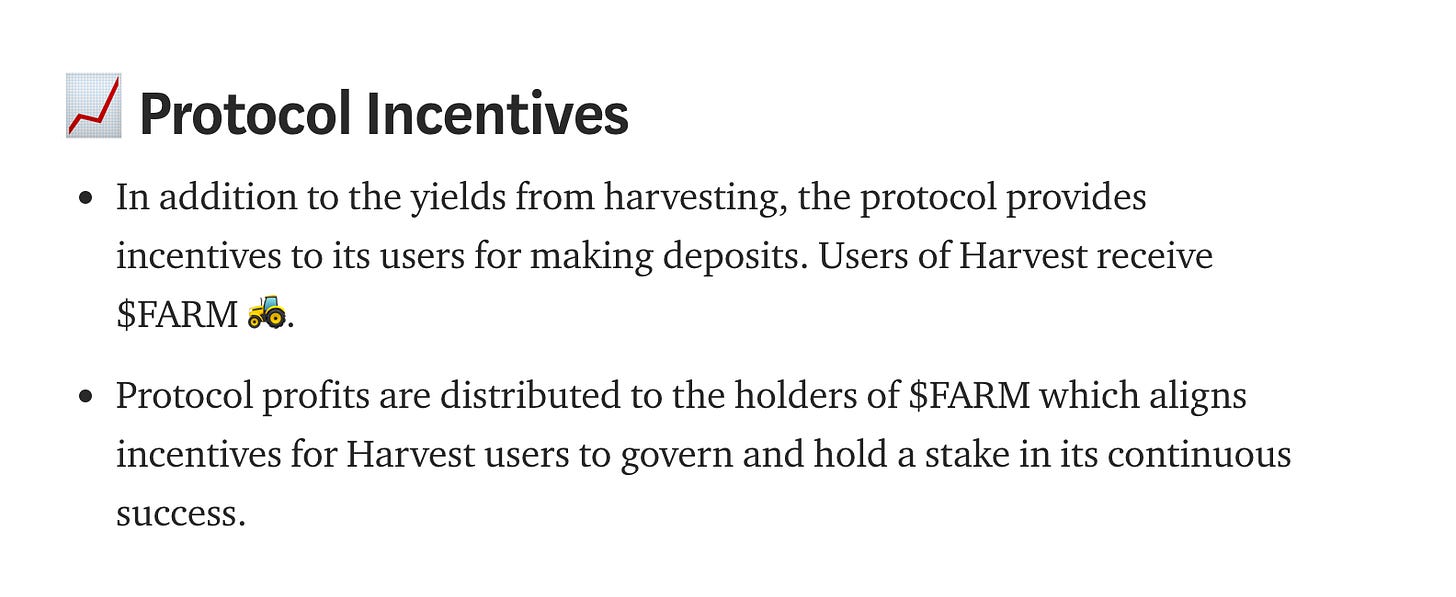 So, not only are you increasing the amount of stablecoins (or renBTC) you own when farming on Harvest, but you also earn $FARM token - then you can deposit that $FARM to the profit sharing pool for a whopping 900% APY currently.
And finally, the tokenomics. So we have 5 million tokens distributed over 4 years & you can see the allocations below. Only thing were not so happy about is a whopping 20% to the team? This means they can legit dump on us anytime…not the best look to be a 'fair launch' but hey, better than $XRP right? Read more on their medium here.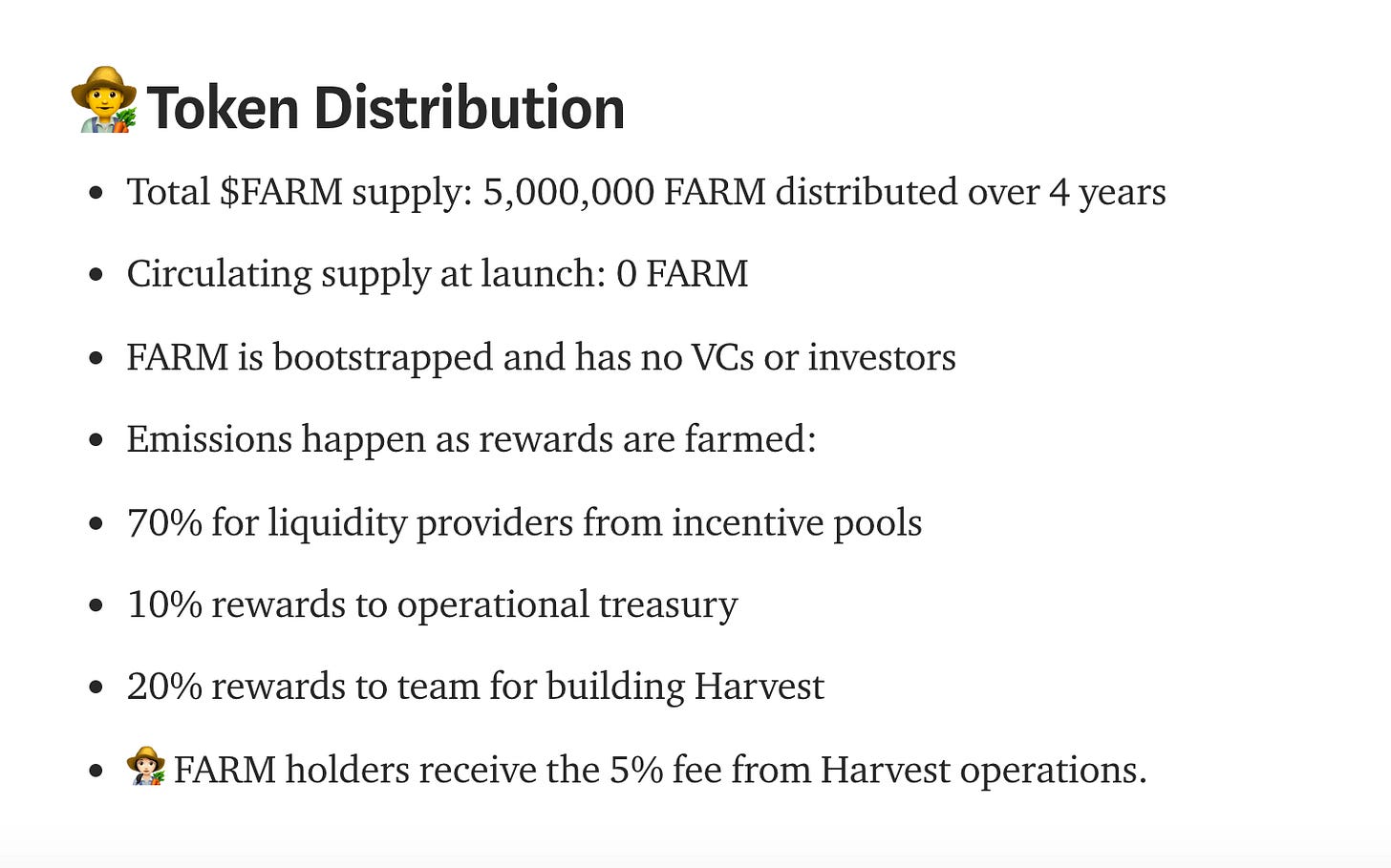 So how do we get started?
Step 1: Head over to Harvest Finance. Connect your MetaMask wallet and obtain some stablecoins or any of the BTC options. Then, enter the amount you'd like to deposit & press deposit at the bottom. You will have to approve two transactions, first approving the spend tx then approving the stake tx on MetaMask.
Don't know what renBTC is or how to get it? Check out last weeks Wiretap Wednesday: How To Turn Your BTC into A Productive Asset!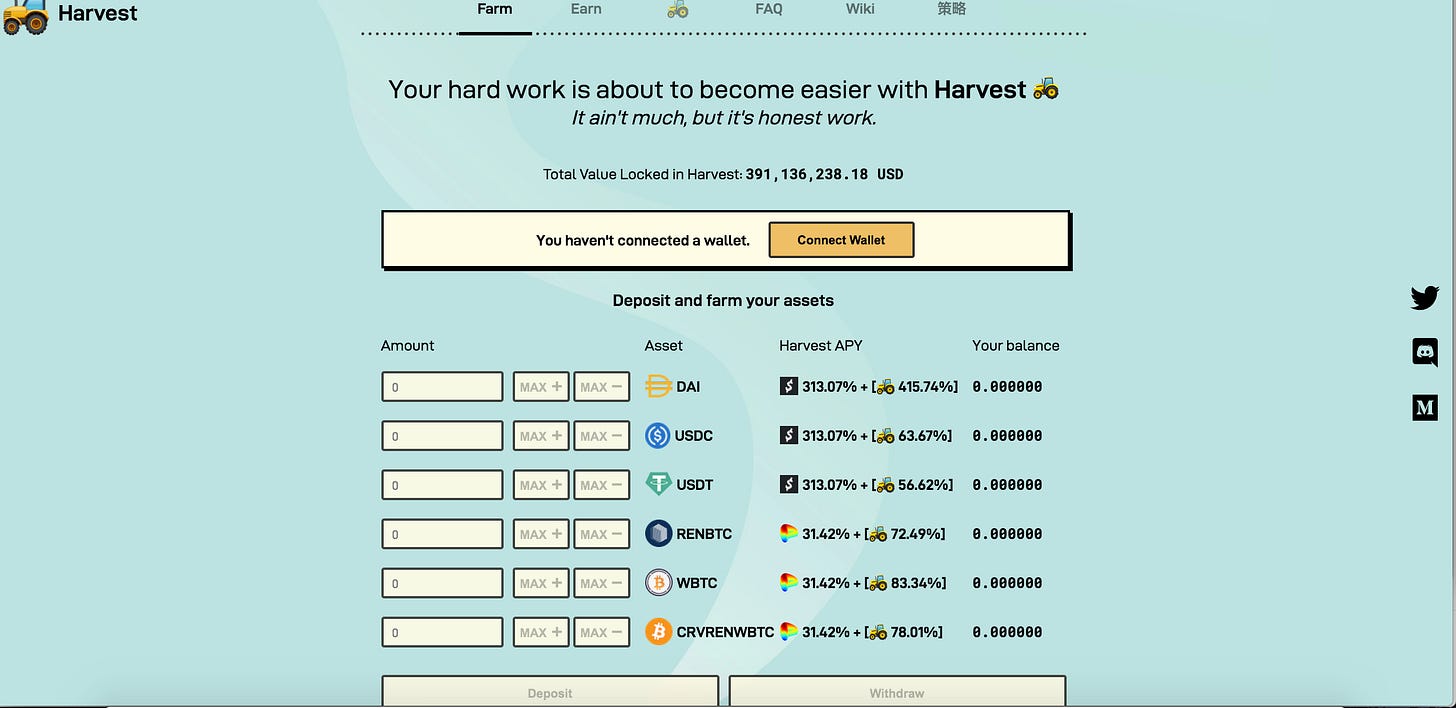 Once you have deposited the assets, you'll see them appear in the 'Your balance' tab on the right. Every 12 hours there is a 'snapshot' and you will see your balances increase slightly. So if you put in $1,000 USDC then you'll slowly start to see $1.000145K, then next day $1.000198k etc, etc. Those are random numbers but the point is you can see the increase daily, which is convenient to monitor.
Step 2: Next, click on the 'Earn' button on the top of the screen, to the left of the tractor. The screen below should pop up. Then, choose the pool which you just deposited into. (Ex: If you deposited $1,000 USDC, then click the USDC pool).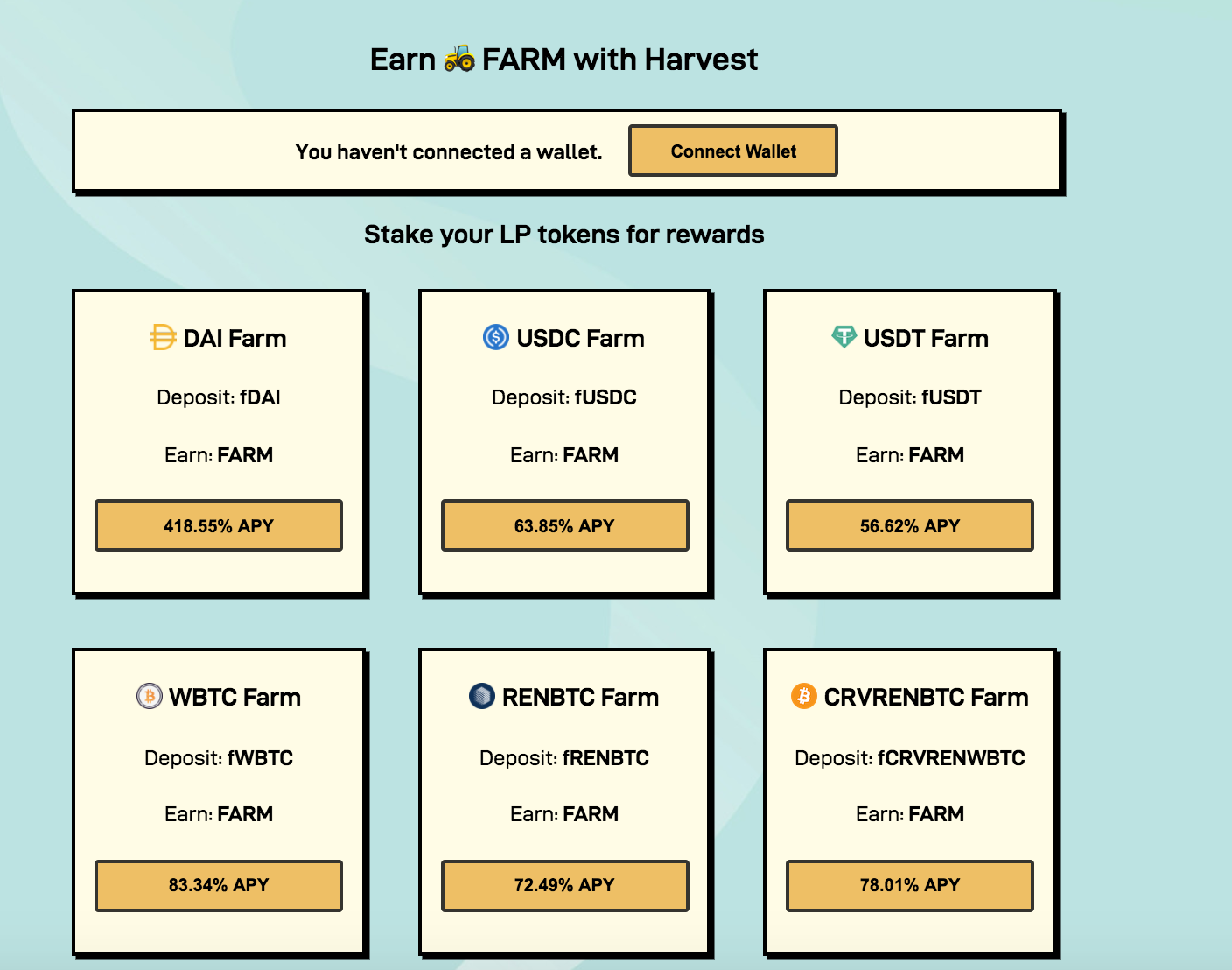 Because you already deposited your funds, you now have 'fUSDC or fRENBTC or fUSDT' AKA the yield-opportunity finding version of your original token.
(Remember, similar to Yearn Finance yTokens)
For this example were using USDC, so now you can deposit your fUSDC into the USDC farm.
Step 3: Click the darker yellow button where the APY is shown, and then go ahead and enter the amount of fUSDC you want to stake & confirm it at the bottom. Approve the tx's in MetaMask and you're all set. You'll see your staked fUSDC on the right under 'Your Staked fUSDC' and your FARM earned on the left under 'Total FARM Earned'.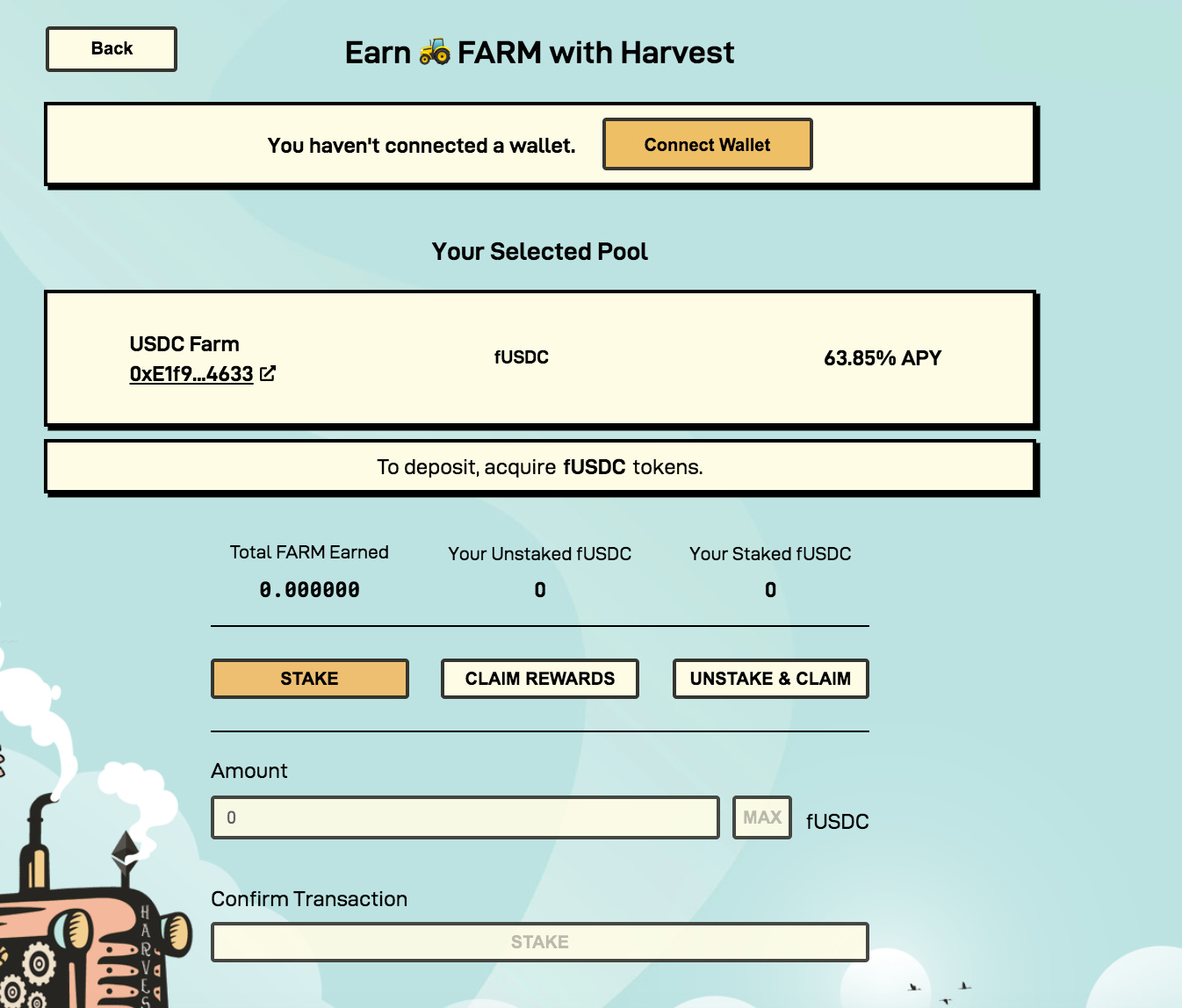 Not only are you earning the ~313% APY on your USDC through Swerve Finance which is reflected through your growing 'Your balance' amount on the homepage (updated every 12h w/ the snapshot), but you are also earning the 65% APY in $FARM tokens reflected on the page above when you stake.
Double whammy. Pretty awesome.
Step 4: This step is for the ultra awesome degens. Once you've stacked up a decent amount of $FARM token (enough to make sense with the gas fees & make it worthwhile - up to you to decide) you can go over to the profit sharing pool.
So when you're ready, click 'Claim Rewards' on the fUSDC farm page & confirm MetaMask tx. They will be sent to your MetaMask wallet that is connected to Harvest.
Then, head to the FARM profit sharing pool. Go through the same process, depositing your FARM tokens this time and then confirming the MetaMask tx's. The current APY is 942%, pretty huge.
Now you are earning yield with your USDC & your $FARM yield is earning MOAR yield in the form of more $FARM tokens.
Yet another…DOUBLE WHAMMY ;)
And that is one of the best ways to get a very high APY on your stablecoins at the moment. No idea how long it will last, like all farming: Be first, be fast, be silent. We are 0/3 at the moment ooooops, hashtag alpha leak for the DeFi Slate Fam.
But yeah, thats Harvest Finance Farming! Happy farming :)
Any questions? DM us on Twitter!
Enjoyed this post? Share with a friend below!
---
Subscribe to the DeFi Slate Newsletter & join thousands of other crypto enthusiasts:
🌐Check Us Out On Twitter!
🚀Join the community on Discord to get our freeV.1. yield farming guide!
🎤Subscribe to our YouTube channel!
Check out some previous interviews:
Last week in review:
Recent tweets: