Discover more from The Rollup
We help you navigate DeFi onchain w/ actionable info & digestible research to give you an edge. Focused on L2s. Scaling to mass adoption one block at a time🙏
Over 2,000 subscribers
Wiretap Wednesday: Intro To Frontier Mobile
Bringing DeFi mobile to the masses with Frontier!
Take one step closer to sovereignty every single week, join the DeFi Slate community below:
DeFi Slate Fam:
Building a fully functional system in 2021 requires mobile usage.
It ~almost~ feels like desktop only applications are a thing of the past, like email marketing ;)
Here we are with DeFi absolutely going on a pure technological innovation moment, center stage of the finance world (soon), yet we are slacking on mobile apps.
Introducing: Frontier Wallet.
A mobile aggregator to bring DeFi to the masses via the Google Play or App Store.
Read below to learn more about Frontier and the growth of mobile fintech in the 2020s.
-Andy
---
🙏 Big Ups To Our Great Sponsor Aave: Earn Interest & Leverage Your Assets with Aave, a non-custodial money market protocol leading the #DeFi charge.
Shoutout to Frontier.xyz: A Chain-Agnostic DeFi Aggregation Layer Bringing DeFi To The Masses Via Their Mobile App, Download it Now!
---
Wiretap Wednesday: Intro To Frontier Mobile
DeFi on mobile is happening. Its just a matter of where, when, how, and why. There is no doubt that bringing financial applications to the mobile users worldwide is the future of, well, finance.
We are at a Schelling point in the FinTech world of banking.
What do we mean?
The world is 'waking up' to the financial concepts of our current system. There is a newfound desire (maybe its just our echo chamber) to take control of your funds. Revolut and other FinTech apps are growing massively and the search for yield is on.
Thing is, the only crypto app on the chart above is Coinbase. And we all know DeFi is not CONbase. But its a start. A start at the very least. We are seeing a lot of growth in DeFi users in 2020, yet its not nearly at the level of Revolut or eToro.
Were coming though.
And that's where
Frontier
comes in…
"Frontier is a chain-agnostic DeFi aggregation layer. To date, we have added support for DeFi on Ethereum, Binance Chain, BandChain, Kava, and Harmony. Via StaFi Protocol, we will enter into the Polkadot ecosystem, and we will now put vigorous efforts towards Serum.

With our applications, users can participate in protocol tracking and management, staking, best-rate asset swapping, liquidity provision, CDP creation & monitoring, and more.

In short, Frontier's core mission is to bring the essential pieces of DeFi to users across whichever platforms they prefer."
Frontier allows you to use all the DeFi protocols on multiple chains, all in one place. But the key aspect we like is bringing the applications to mobile. Everything we do currently is on desktop because frankly DeFi isn't super usable on mobile due to gas costs, different wallets, UIs, updates etc.
You can download the app here & give it a try for yourself. There are incentives within the app for usage as well as yield emissions ongoing for the $FRONT token:
What about NFTs?
Frontier currently supports NFTs on OpenSea within their native app. You can view your collection and watch, listen & stream your digital collectibles.
Here's a few things you can do with the Frontier app (read more here):
Tracking NFTs – Connect other mobile wallets with Frontier and track all NFTs no matter which marketplace you've bought from. Users can see a complete overview of NFTs with details such as Last Sale, Artist, Edition, Medium Collection etc

Managing NFTs – Connect other mobile wallets with Frontier and send them to other wallets/addresses.

Supports NFTs with Motion and Music – NFTs which has audio supports, can be played in Frontier and also NFTs with animations.

Segregated view – We now have three different tabs on Asset page:
1. Tokens – Shows all the Ethereum and ERC20 tokens
2. Positions – Shows all the DeFi Positions
3. NFTs – Shows all NFTs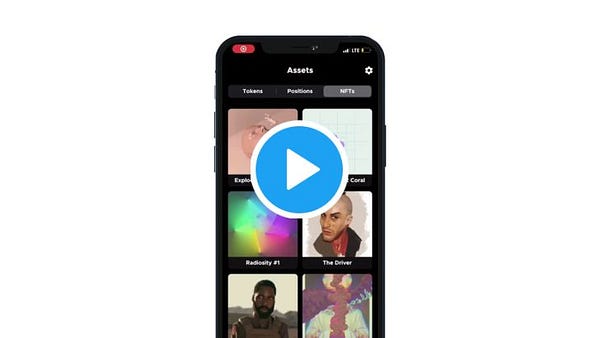 Ever since the Frontier wallet was born in May '19, the team has been actively building in the DeFi space trying to grow their userbase and product development. Actively stationed in India, Palash and the team are working hard to bring DeFi to mobile for the masses in 2021.
Bridging DeFi, NFTs, and a great user experience is no easy task.
We welcome all critics and lovers of Frontier to our comments or our Twitter! Thanks for reading.
---
👀 Sponsor Update: Oxis Wallet is an easy-to-use, non-custodial wallet for DeFi degens like us. Secure, safe, and simple, the Oxis Wallet is a must have!
You know what they say…not your keys, not your coins ;)
---
⚠️ DISCLAIMER: Investing into cryptocurrency and DeFi platforms comes with inherent risk including technical risk, human error, platform failure and more. At certain points throughout this post, we might get commission for promoting certain projects, if this is the case we will always make sure it is clear. We are strictly an educational content platform, nothing we offer is financial advice. We are not professionals or licensed advisors.
---
Liked this post? Share with a friend :)
Subscribe to the DeFi Slate Newsletter & join thousands of other crypto enthusiasts:
✓
🌐Check Us Out On Twitter!
🚀Join the community on Telegram Channel to get our free V.1. yield farming guide!
🎤Subscribe to our YouTube channel!
Last week in review:
Check out some previous interviews: